Job Killer Bills to Watch Ahead of House of Origin Deadline
Four California Chamber of Commerce job killer bills await action in the legislature this week as Friday marks the last day that non-tax bills may pass the house in which they were introduced.
House of Origin Deadline
Each of these job killer bills will need to move out of its house of origin by June 4 in order to continue moving through the legislative process:
AB 650 (Muratsuchi; D-Torrance) Healthcare Workers: COVID-19 Bonuses: Imposes at least an estimated $7 billion in direct payroll costs on healthcare providers through mandatory bonuses, which will jeopardize access to affordable healthcare due to the billions of dollars the healthcare industry has lost during the pandemic. Prohibits healthcare providers from reducing staff even if they are unable to afford to continue to pay those bonuses.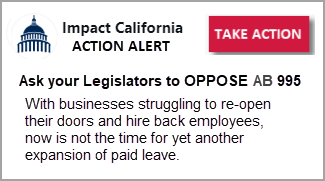 AB 995 (Gonzalez; D-San Diego) Costly Sick Leave Expansion on All Employers: Imposes new costs and leave requirements on employers of all sizes, by expanding the number of paid sick days employers are required to provide, which is in addition to all of the recently enacted leave mandates (COVID-19 sick leave, CalOSHA emergency paid time off, CFRA leave, workers' compensation, etc.) that small employers throughout the state are already struggling with to implement and comply.
AB 1192 (Kalra; D-San Jose) Public Shaming of Employers: Places new onerous administrative burdens on employers by requiring annual reporting of wage and hour data and employee benefits for an employer's entire United States workforce that will publicly shame employers for lawful conduct by publishing that data on the Labor and Workforce Development Agency's website, and will subject employers to frivolous litigation and settlement demands.
SB 213 (Cortese; D-San Jose) Expands Costly Presumption of Injury: Significantly increases workers' compensation costs for public and private hospitals by presuming certain diseases and injuries are caused by the workplace and establishes an extremely concerning precedent for expanding presumptions into the private sector.

More Job Killers